Edward Jones and PriceWaterhouseCoopers share how they are helping workers face the challenges of a changing economy.
Economic inflation is a global problem in 2022.
Research from McKinsey shows rising prices in the first half of 2022 far exceeded expectations, and the consequences are being felt by employees who are watching their buying power evaporate. The wage growth of 2020 and early 2021 is being undercut as prices for gasoline, cars, homes and food soar.
Some organizations have cut their workforce as market demand for goods like houses has precipitously dropped. Yet, cutting staff isn't the only way for companies to safeguard against economic headwinds.
Great Place to Work® analyzed data from companies before, during and after the Great Recession of 2007–2009, spanning 15 years from 2006 to 2021. Companies that delivered consistently great workplace experiences suffered the smallest losses and were the quickest to rebound post-recession.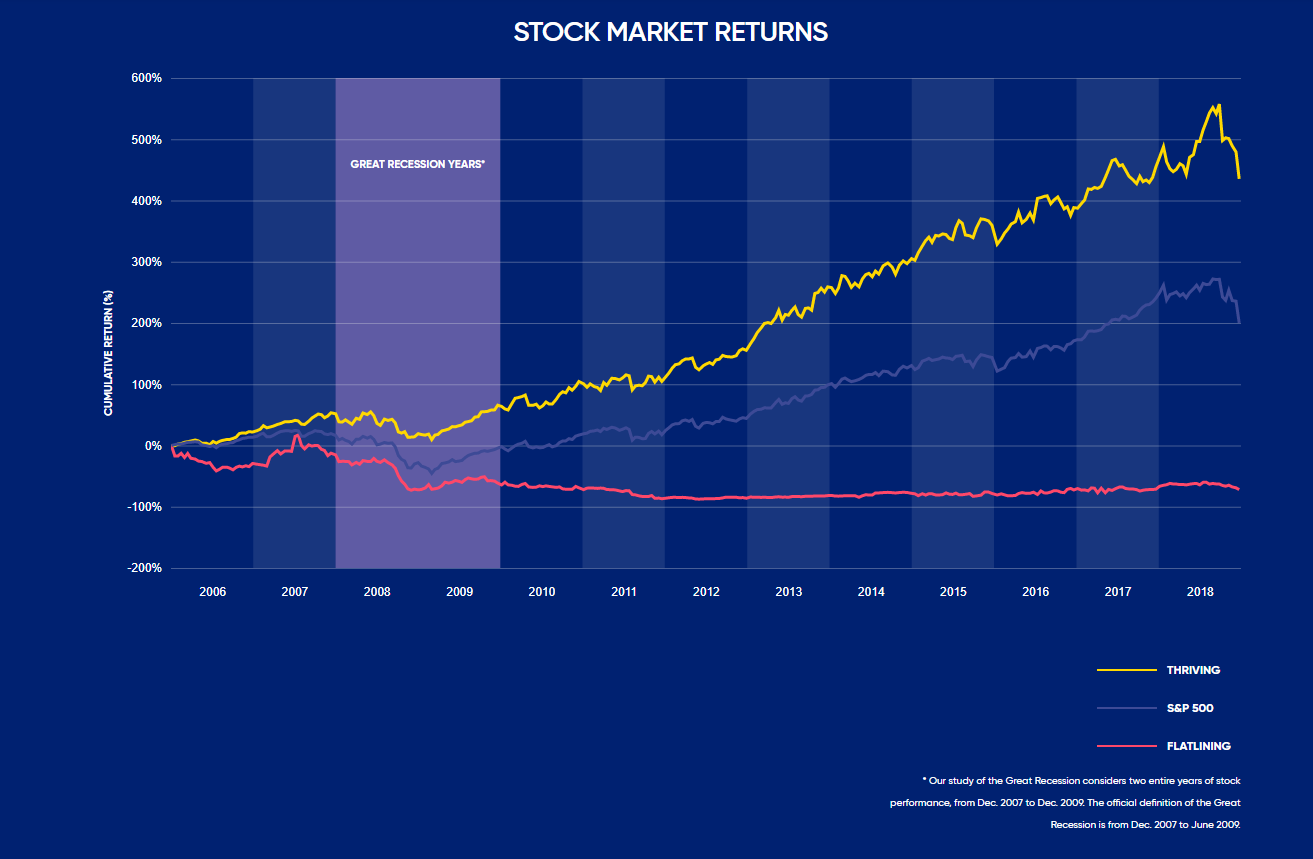 While the S&P 500 suffered a 36% decline in value from 2007–2009, companies who supported all employees gained 14%. By making sure that no employee was overlooked, these organizations beat the odds and made more money.
Raising wages
To help workers face inflation, many organizations are reassessing compensation and taking a closer look at financial health resources. Accounting giant PriceWaterhouseCoopers, No. 63 on the Fortune 100 Best Companies to Work For® in 2022, took action to ensure employees felt financially stable as prices skyrocketed.
"We know that the market is changing faster than ever, and we're responding," says Yolanda Seals-Coffield, U.S. deputy people leader at PwC. "As a result, and in support of our commitment to competitive pay, we shared with employees that we will more regularly review compensation."
The firm took immediate action to help employees keep up with rising costs, giving an unprecedented 5% mid-year increase to all employees (up to director) in January of 2022 and base salary increases effective July 1, 2022, as well as a fully funded bonus pool. Another way to help employees keep pace with inflation is to find flexibility, using total rewards to offset the rising cost of living.
For financial services firm Edward Jones, No. 35 on the Best Companies list, helping employees tackle inflation requires a multifaceted approach.
"Inflation is top of mind for many people these days," says Suzan McDaniel, principal, human resources at Edward Jones. "At Edward Jones, our reward programs are built to help us navigate challenging times and provide flexibility."
A focus on well-being
Adequate compensation is crucial, but it's not the only thing that drives a healthy employee experience.
Companies who thrive during economic downturns ensure everyone is treated as a full member of the team. In 2022, that means investing the well-being of all employees, ensuring they can bring their full selves to work ready to tackle essential business challenges.
For PwC, that investment has meant looking at flexible work, mental health resources, expanded parental leave and financial aid around retirement and student loan debt. 
"The pandemic has reshaped the way people prioritize their well-being, and a large aspect of that is having a real choice in how, where and when they work," Seals-Coffield says.
To help employees balance work and personal life, PwC gives two annual, weeklong firm-wide shutdowns, adding a week off in July each year to its previous offering of a week in December.  The firm also reassessed flex time and job sharing, updating its leave of absence policy to allow workers to take up to 26 weeks at 20% of their pay.
To help with financial burdens, the company offers a student loan paydown benefit of $1,200 a year for up to six years, available to associates and senior associates, helping to shorten the payoff period by up to three years. A financial coach is also available to help PwC employees make educated financial decisions around retirement planning, investments and more.
Edward Jones has also pushed to build resilience among its workforce in response to a rapidly changing social environment.
"We have expanded access and offerings through our employee assistance program, invited third-party experts to speak on various topics and made crisis counselors available for associates in response to several tragedies that impacted the nation," McDaniel explains.
"We feel that one of the most effective strategies has been providing space for our associates to process their emotions, listen and converse, and learn from one another's experiences."
Spotlight on DEIB
Companies that thrive during economic downturns are also companies that keep improving the experience of marginalized employees, showing the importance of diversity, equity and inclusion heading into 2023.
Inclusion doesn't rise and fall with the economy at both Edward Jones and PwC.  
"Regardless of the economic state, employees will continue to hold companies accountable for driving progress, purpose and impact," Seals-Coffield says.
For both firms, the commitment to diversity, equity and inclusion comes with specific goals. Edward Jones has set clear benchmarks for 2025 regarding racial and gender diversity in leadership, as well as rank-and-file roles. PwC has made big investments in improving the talent pipeline, aspiring to hire 10,000 Black and Latinx students into roles at the firm by 2026.
For Edward Jones, a strong culture in 2022 and beyond comes down to challenging its leaders. McDaniel sums up the most important element of Edward Jones' culture as its "focus on continuous learning."
"We are encouraging leaders and associates to be 'learn it alls' not 'know it alls,'" she says, "which means embracing change, recognizing that each day presents new challenges and opportunities, and finding ways to continuously test innovative ways of working."
By encouraging curiosity, Edward Jones hopes to create a culture of trust and psychological safety where everyone can grow, thrive and deliver great service to customers.
At PwC, the focus is also on growth and development, with the firm launching My+, a three-year $2.4 billion investment in personalized employee experience for its people.
"The pandemic and resulting workforce transformation has shown us that we need to accelerate our plans and create new opportunities for our people centered around choice and flexibility," Seals-Coffield says.
"People are seeking opportunities that allow them to live their lives how they want to, including meeting the needs of their families, finding work that aligns with their beliefs and creating an environment in which they are building the skills needed for the future."
Get More Insights
Improve employee retention and engagement with the latest insights from our data and research team. Subscribe to the Great Place to Work newsletter and learn how to create a great workplace culture.
---