[ad_1]

---
As the seasons turn and the pandemic continues to wreak havoc, one constant remains. The union continues to fight for what educators need to stay safe on the job and empower themselves in a workplace significantly impacted by COVID-19.
School-Related Professionals know those struggles all too well. From dealing with severe staffing shortages, to changing job duties and switching from in-person to remote and back to in-person, SRPs are on the front lines and behind the scenes.
SRPs will meet Oct. 29-31 to share insights on critical workplace issues at NYSUT's annual SRP Leadership Conference. This year's theme: "Together again: SRP leaders creating a better tomorrow."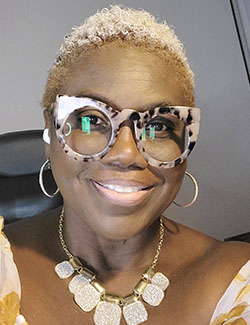 Christel Williams-Hayes (pictured), recording secretary for the Chicago Teachers Union, will deliver the keynote address. The CTU recently successfully pushed for a health and safety committee in every school, including SRP members, to meet weekly with administration. Williams-Hayes encourages SRPs to "fight and not hold back; to measure their loyalty with their safety."
The work of SRPs can involve direct care on the playground, in the lunchroom, the classroom and the bathroom. More one-on-one contact, she said, causes elevated health care concerns during a pandemic. In Chicago, 11 out of 17 classrooms in one elementary school were quarantined this fall.
Williams-Hayes will share her experiences, ideas for toolkits, and ways to mobilize members. The CTU, for example, was able to get Chicago Public Schools to hire 150 more teaching assistants in this changed learning environment. CTU also won support for school clerks to work from home four days a week when the coronavirus forced the closure of school buildings last March through June. Chicago Public Schools wanted the clerks to come into work even though there were no shields, filters, or other personal protective equipment, Williams-Hayes said. The CTU won arbitration and the union will help the families who were without their pay.
"We are all seeing our professions through different lenses, and this conference will address many of the ways we have adapted since the pandemic and focus on the toll that the physical, psychological and emotional stress has had on our leaders and members," said Ron Gross, NYSUT second vice president overseeing SRPs.
"Our SRPs are working harder than ever to meet the ever-changing landscape in education," said Gross. And as new crises emerge, "our leaders have become more cohesive and are helping each other get through each day. It is crystal clear that locals that are more organized can address the needs of their members significantly better during these challenging times."
Conference workshops will include building power through political action; work, COVID and compassion fatigue; effective communication; understanding and challenging implicit bias; managing stress and anxiety; preventing illness and injury while toileting children; and a clerical staff class.
SAVE THE DATE: SRP Recognition Day is Nov. 16!
SRP units are encouraged to honor peers for the official state SRP Recognition Day, on Nov. 16. This year's theme is "Super Heroes Among Us."
SRP leaders can request "SRPs rock" pins through NYSUT at nysut.org/srprecognitionday. The site also includes downloadable posters.
---
!function(f,b,e,v,n,t,s)
{if(f.fbq)return;n=f.fbq=function(){n.callMethod?
n.callMethod.apply(n,arguments):n.queue.push(arguments)};
if(!f._fbq)f._fbq=n;n.push=n;n.loaded=!0;n.version='2.0′;
n.queue=[];t=b.createElement(e);t.async=!0;
t.src=v;s=b.getElementsByTagName(e)[0];
s.parentNode.insertBefore(t,s)}(window, document,'script',
'https://connect.facebook.net/en_US/fbevents.js');
fbq('init', '166218004098694');
fbq('track', 'PageView');
[ad_2]

Read More:Gear up for the annual SRP Leadership Conference Oct. 29-31