[ad_1]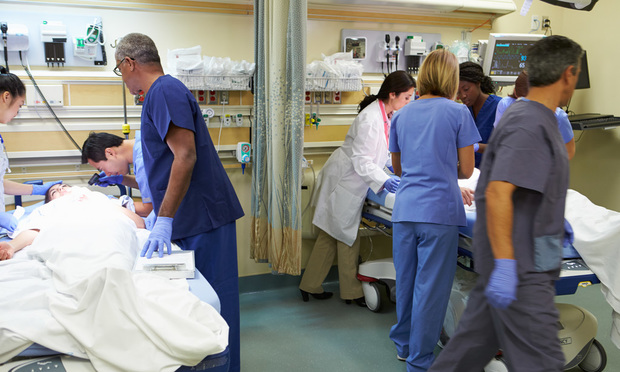 As companies continue to place new emphasis on being inclusive and equitable, some have struggled to make meaningful, measurable progress. A common problem is replacing anecdotal evidence with useful data about opportunities to improve equity and inclusion for employees. Getting a handle on exactly where companies are falling short on diversity, equity, and inclusion (DEI) efforts can be difficult. A recent webinar hosted by Artemis Health highlighted an innovative approach taken by Boeing, the aerospace giant, which is a client of Artemis Health.
Porter Sproul, marketing program and events manager with Artemis and moderator for the webinar noted that when companies collect data on everyone, there should be no asterisks involved— "everyone" should mean just that, with all groups accurately represented.
Related: Despite best of intentions, DEI strategies often fall short
"Making sure that everyone has access to great health care that they can afford means that we can't ignore underrepresented groups," Sproul said. "Diversity, equity, and inclusion initiatives are vital to a thriving business both internally and externally. And benefits are an important part of building a diverse and inclusive workplace."
Boeing's data breakthrough
According to Linda Brady, who leads the health care strategy and policy team at Boeing, her company has been committed to addressing DEI issues, but lacked a good way of measuring and understanding how inequities were affecting employees, especially in the area of benefits.
"When we began looking at our data to see what stories it could tell, we discovered that none of our partners, such as network administrators or claims administrators, actually had any data on race, ethnicity, language, education gender identity, or sexual orientation," she noted. "And everything that we had done with our partners regarding diversity was really along the line of social determinants of health, but dependent on zip code data. We had nothing that could get beyond that barrier of zip code data."
The team finally did find a good source of data: health risk assessments, which are compiled annually and have a high participation rate among employees (79%).
"We realized we had a high enough response rate that we might be able to use that data to get us to that next step," she said.
In order to get a handle on racial inequities in health care benefits, the researchers used the assessment to track claims data, arranging the data into cohorts: White/Caucasian; Asian; Hispanic or Latino; Black or African American; Native Hawaiian/Pacific Islander; and American Indian or Alaska Native.
What the data showed was that when broken down into areas of treatment, differences in the claims data emerged. Some cohorts had higher spends than others, or higher rates of reported claims, or higher claims for specific types of treatment. One example is ER claims, which showed that two groups, African Americans and the American Indian/Alaska Native cohort had higher rates of visits but lower rates of spend per ER visit, according to the data.
"Where you have high level of visits and maybe relatively low costs per visit—that might suggest you have an access issue. Or, a behavior issue, where people are primarily getting their care only when they absolutely need it and they turn to the ER to get that care," Brady noted. "So, we'll want to drill down to better understand what is driving this behavior." She noted that this is an area where factors such as geography and access to providers might also play a role.
Another example where the data suggested certain groups were having significantly different outcomes was in the area of renal failure. In this area, claims for white/Caucasian employees were at 7.98 episodes per thousand employees. Three other cohorts were slightly below that level, but two were dramatically higher: African American (19.8 claims per thousand) and Native Hawaiian/Pacific Islander (15.0 claims per thousand).
"This is where we want to drill down to determine and confirm theories around what might be driving this disparity and where we might have sone gaps in programs and support for our members," Brady said. "We might also think about how we communicate the programs and benefits that we have available."
Panel discussion: the more data, the better
When the presentation switched to the panel discussion, panelists agreed that it can be daunting to shift through data, but that it is a necessary task—the key is finding the right systems and tools to help make sense of the information.
Betsy Nota-Kirby, vice president of national health management consulting at Marsh and McLennan Agency, noted that it would be very helpful to benefits teams if they had a unified source of information.
"It would really be ideal if we had it all in one data lake or one data platform, To make it easier on ourselves and on the employees or patients, wherever the data is coming from," she said. "If we're able to include all that in one data link, it will make it easier for us to do this work."
The panelists agree that companies should do more to make employees feel comfortable sharing about their benefits concerns. Russel Millison, a client consultant with Marsh and McLennan, noted that data such as that from Boeing can help illuminate the needs of employees, but feedback really helps fill in the picture.
"The actual form the communication takes will vary from population to population," Millison said. "The goal is to provide an atmosphere where employees feel welcome to provide feedback confidentially."
That can be done through newsletters and company messaging, he noted. "Get these topics out there," he said. "Incorporating health care issues helps reduce stigma and signals to employees that you're thinking about them. …It's just a matter of finding the method that best fits the population and provides for the most open conversation and collaboration."
During the discussion's question and answer period, a participant asked about getting useful data from fully-insured plans, which traditionally have seen carriers exert more control over data and decline to provide more granular information.
Nota-Kirby said that she worked mostly with self-funded plans but agreed that getting data from big carriers is more problematic. "We have some carriers that will not share that member level detail with us to the extent that we get with self-funded plans, then we have some that we are fortunate to work with who give us more member-level detail that is more granular and that helps us really evaluate the cost, utilization, and workers' perspective," she said.
Kelly Blue, a data-driven insights consultant with Mercer, noted that data on DEI issues is becoming more important to employers, and that pressure is growing on all carriers to be more forthcoming. "This is a great opportunity to push back on carriers," she said. "The more that they hear people requesting this information and wanting to understand the data, the more they're going to have to respond and come up with meaningful ways to provide that data. So, I would say, continue to ask for that, because you won't be alone. And if you get enough people asking, they will probably do something for you."
Read more: 
[ad_2]

Read More:Developing DEI: What can your claims data tell you? | BenefitsPRO