Here's how the 2023 PEOPLE Companies that Care increase volunteerism and connect company goals to a higher purpose — and how you can, too.
Caring is contagious.
When employees feel that their workplace cares about them, they extend that care to their colleagues and communities. For organizations on the 2023 PEOPLE® Companies that Care List, care is often a defining principle or value that they instill into every aspect of their business.
"Being a caring company isn't about winning a popularity contest," says Michael C. Bush, CEO of Great Place To Work®. "These great companies use their power to build a better world for their employees and customers, and as a result they see stronger performance, more innovation, and higher profits."
Those principles of care have a remarkable impact on volunteerism for the companies on this year's list. Overwhelming majorities of employees participate in community impact programs and volunteer efforts.
At Cisco, No. 1 on this year's list, 80% of its workforce participated in its Community Impact program in the 2021 fiscal year, with participation including volunteering, donations, and participating in local programs. Together, 62,000 Cisco employees generated more than $34 million in total donations and matching gifts.
To get this level of participation, Cisco frequently encourages employees to get involved. New hires are asked right away to consider their impact on their community and a new hire give-back program offers new employees a $15 credit to donate to a cause of their choice.
Later, employees continue to receive nudges towards volunteering and donating. Cisco's intranet displays a personalized module that tracks participation in community impact programming. The dashboard shows participation for an employee's team, and for the whole organization — using a little social pressure to create a community of giving.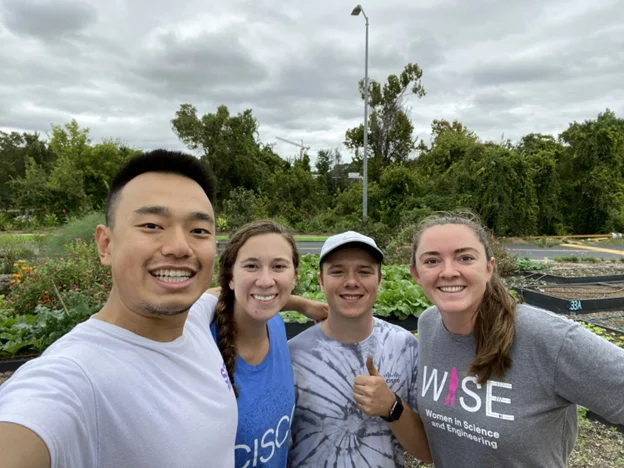 Cisco employees volunteer at the Raleigh Branch of the Food Back of Central and Eastern North Carolina.
Employees are also guided into Cisco's Community Impact Portal, a digital platform where they participate in variety of opportunities, all of which have definable positive value for the community.
[Save the date: Attend our annual company culture conference May 7-9, 2024]
Giving employees the opportunity
Many companies on the list offer their employees stipends or paid time off to volunteer or support a cause they believe in. The most caring companies take it one step further and organize multiple opportunities for employees to volunteer together.
At Bombas, No. 72 on the list, the giving team organizes 10 to 15 volunteering opportunities for employees every month. Examples of some of the activities include putting together items from the holiday wish lists of families in need, mentoring students on their résumés and interview skills, donating clothes, and more.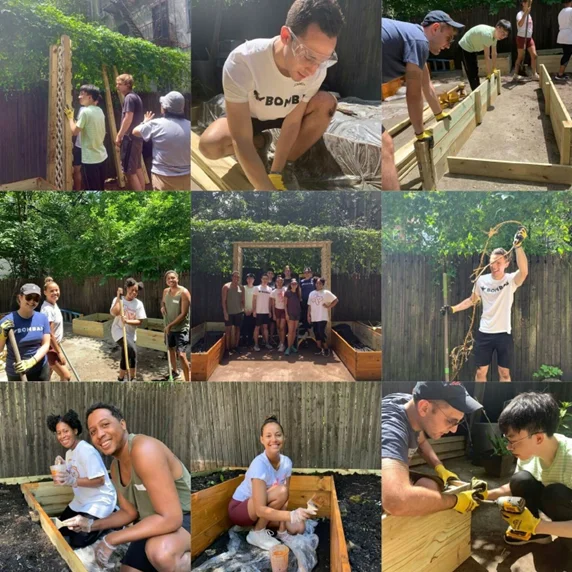 Bombas employees participate in a gardening event in partnership with Services for the Underserved.
"Many companies will claim to [have] a give-back mission of sorts, but this company not only makes decisions based on this mission but truly encourages employees to remain engaged and volunteering for the community," shared one Bombas employee. "Some of my fondest memories at the company are through our giving events."
Sponsoring leaders
For some companies, having employees serve on nonprofit boards is beneficial and so they find ways to reward employees who take on leadership duties in their communities.
CarMax, No. 76 on the list, offers employees a $1,000 grant when they serve on a nonprofit's board of directors. In its 2022 fiscal year, the company paid $235,000 through the program and has since expanded the benefit to also provide the grant if an employee's spouse, domestic partner, or child serves on a nonprofit board.
At CarMax, 88% of employees surveyed say they feel good about how the company invests and supports local communities.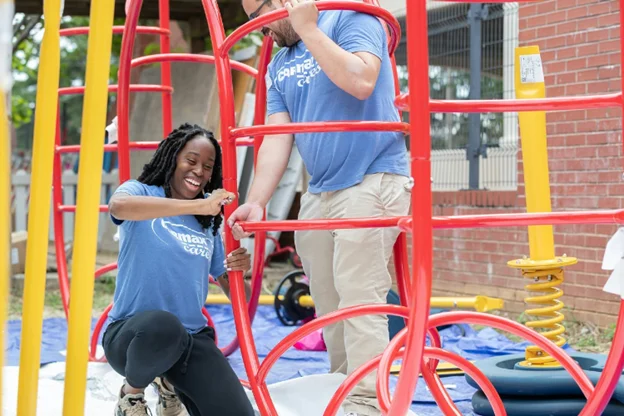 CarMax employees build a playground in Richmond, Virginia.
The value of time
When companies do give time off to employees for volunteer activities, there are ways to maximize the effort to engage workers in community programs. While many volunteer projects can be completed in a free afternoon, sometimes the work requires extra time away.
RSM US LLP, No. 4 on the list, offers a "Pursue Your Passion" program where employees can apply for the chance to pursue a passion project with financial support and time off from the firm.
This year, nine employees were awarded $10,000 each and nine days off. One employee used the grant to open a therapeutic horse-care and riding program for disabled children, young adults, and veterans on her parent's farm in Michigan.
Companies on the list also listened to their employees and found ways to support the work that they were already using vacation days to do.
At Dow, No. 88, employees who are passionate about disaster relief and service are able to volunteer with service partner Team Rubicon to assist in the wake of natural disasters for up to two weeks without using vacation days.
Volunteering lessons
For companies looking to improve employee participation in volunteer activities, the PEOPLE Companies That Care offer some helpful tips:
1. Get started during onboarding
 Many companies match charitable donations or offer opportunities for employees to direct the disbursement of company funds to a cause they support. By asking new hires to participate in charitable giving, companies can reinforce their values and ensure that employees feel included in efforts to give back to the community from the start of their employee journey.
2. Take away the pressure of organizing volunteer activities
 Many employees don't have the time to find their own volunteer program, but that doesn't mean they don't want to participate. Companies that can help organize group volunteer activities see multiple benefits: higher levels of belonging and camaraderie, and higher volunteerism rates.
3. Find ways to support what employees are already doing
 There's a good chance your employees are already actively engaged in their communities. Rather than invent your own programs, ask how you can help the work they are already doing.
Partner with employee resource groups to identify the most important needs in local communities. If employees are serving on nonprofit boards or doing regular volunteer shifts, how can you celebrate and reward that service?
When employees give back to their communities, your business benefits. Employees feel better about their company and their work when they believe they contribute to making the world a better place.
Make the list
Think your company deserves recognition for all the ways it cares for employees, local communities, and the planet? Get started on applying for next year's list.
---