[ad_1]

As the NSW Public Health Order (PHO) comes into effect today, arts venues are opening up – based on workers and visitors being vaccinated. This will have an immediate impact on staff scheduling for any organisation included in the vaccine mandate which will include, at this stage, public galleries and other arts or 'entertainment' venues. 
Sydney-based peak organisation NAVA writes were wary in the lead-up to the roadmap: 'Current support packages will wind back once 80% of the eligible population is vaccinated, meaning COVID-19 Disaster and JobSaver payments will be phased out from 80% onwards … Both Federal and State [governments] are currently looking at support packages that will kick in after this date, but these will likely be weighted towards stimulus measures to drive demand.'
From 1 December, all NSW workers will be able to return to the workplace and it will be a decision between employers and employees as to whether vaccination is mandated. This will be a guide for other states in the decisions employers are making and impact and response to those decisions.
Read: How you feel about returning to arts events
Pushing the politics, policies and practicalities of vaccination requirements aside, the reality of opening is a welcome and very real relief for many arts organisations across the state.
To help you support them as they open their doors, here is a short list to help you get up and go.
GALLERIES OPENING UP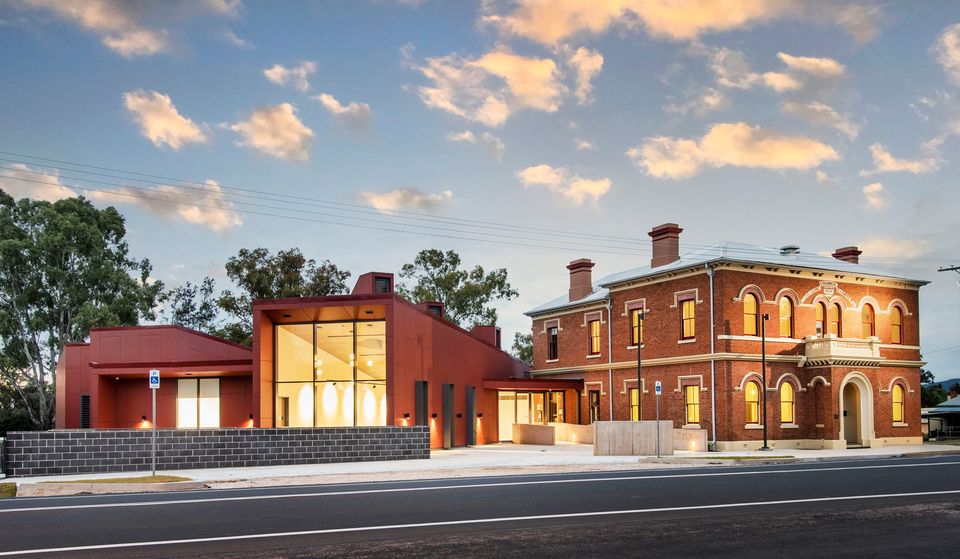 Read: 80 years of fostering makers
SYDNEY
Art Gallery of New South Wales (AGNSW) reopens today with the newly installed exhibitions, The Purple House, celebrating the legacy of leading Pintupi artists, and The Way We Eat, which presents Asian works of art related to food.
Upcoming exhibitions opening in spring include Matisse Alive (from 23 October), Family: Visions of a Shared Humanity (from 6 November), and the Sydney International Art Series exhibition, Matisse: Life & Spirit, Masterpieces from the Centre Pompidou, Paris (from 20 November). There is also a newly installed 20-metre long outdoor art commission by Kaylene Whiskey can now be viewed along the project site's hoarding on Art Gallery Road.
The Brett Whiteley Studio will reopen on Thursday, 14 October with the exhibition Brett Whiteley: Printmaker.
The Powerhouse also reopens today, with five new exhibitions unveiled. Spanning photography, design, music, ceramics and applied arts, the exhibitions showcase the Powerhouse's world-class collection alongside new artist commissions.
Opening exhibitions include Eucalyptusdom, a major exhibition reckoning with our cultural history and ever-changing relationship with the gum tree. The exhibition presents over 400 objects from the Powerhouse Collection alongside 17 newly commissioned works; Robert Rosen: Glitterati, the largest survey of the work of one of Australia's foremost fashion and social photographers; Electric Keys will survey the journey of electric keyboards; Graphic Identities will present work by eight celebrated 20th century designers; as well Clay Dynasty charting 50 years of studio ceramic practice in Australia with over 400 works from 160 Australian artists. The also have safe visiting information.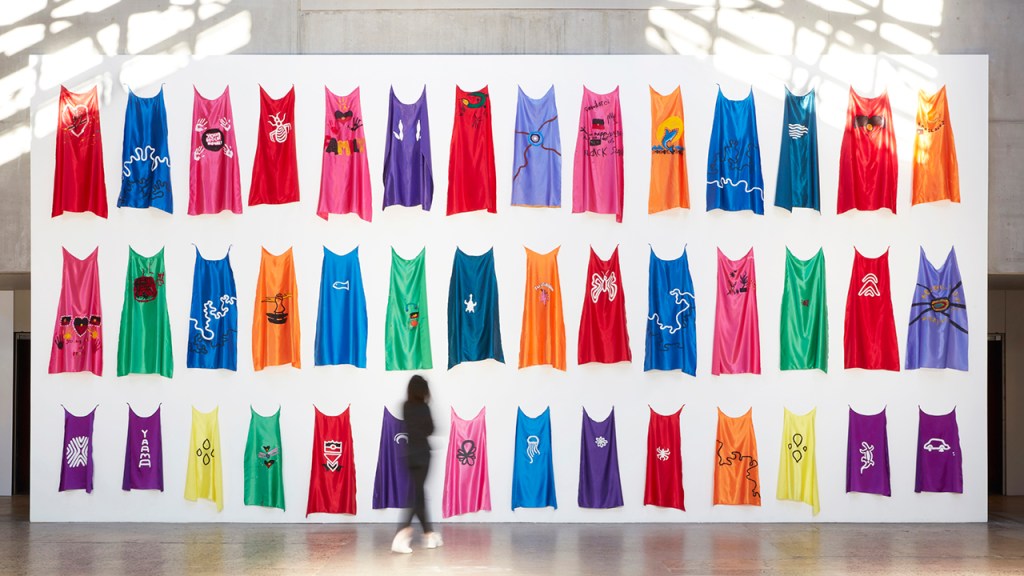 Carriageworks has set its open date to the public on Wednesday 3 November 2021, with award-winning Kamilaroi/Gamilaraay artist Dennis Golding's exhibition The Future is Here (3-28 November). Later in the month, visitors will have free access to the unveiling of a major site-specific work by celebrated Worimi artist Dean Cross, a new video installation by acclaimed photographer and video artist Cherine Fahd commissioned and presented in partnership with Performance Space – both opening 16 November.
Carriageworks will also welcome back Sydney Dance Company's New Breed, supported by The Balnaves Foundation, which showcases bold new work by emerging choreographers.
Carriageworks CEO Blair French said: 'Carriageworks is delighted to reopen with exhibitions by three key voices in Australian contemporary art who are all current or recent artists in residence at the Clothing Store at Carriageworks.' 
The Museum of Contemporary of Art Australia (MCA) opens Tuesday 12 October with a lineup of major local and international exhibitions including Richard Bell: You Can Go Now and MCA Collection: Perspectives on place. A week later, on Wednesday 20 October, it will open its major ticketed summer show Doug Aitken: New Era, exclusive to Sydney and part of the 2021-2022 Sydney International Art Series. 
Peter Sharp: Accidental Tourist and To The Edges: 60 Years of the Sydney Printmakers is showing at Mosman Art Gallery and Museum (until 7 November).
Penrith Regional Gallery has announce two exhibitions opening 25 October through 9 January 2022 (in person) – Line Work: Rivers of the Basin – an iterative and ongoing collaboration between Sydney-based artists Sue Pedley and Phaptawan Suwannakudt looking at the Nepean River; and From The Collection X Abdullah M.I. Syed – the outcome of a residency by the Pakistani born Australian artist looking at the influes of the Bauhaus School on Australian Modernism.
Sydney's newest public art gallery, Woollahra Gallery at Redleaf will open to the public on Thursday 4 November 2021. Launching with an inaugural exhibition featuring the finalists of the 20th Woollahra Small Sculpture Prize, Woollahra Gallery at Redleaf will be the heart of a new cultural precinct.. The winner of the 20th Woollahra Small Sculpture Prize will be announced on Wednesday 3 November, drawn from 52 finalists of a record 844 entries.
Also kicking off is the downstairs cultural hub situated below the gallery – the new home for the established Woollahra Artist in Residence Program. The first round of artist residencies will feature artists Susan Baird, Penelope Cain, Rox De Luca, Wendy Yu and Sharon Billinge.
REGIONAL NSW
Two new galleries open this coming week. Ngununggula in Bowral and the Mudgee Arts Precinct.
The inaugural exhibition is by Mudgee-born artist, Guido (Guy) Maestri who has painted a series of large-scale works especially for the inaugural exhibition. It was due to open 6 August launching the new gallery (for one week until the regional lockdown) and has been extended until 9 January 2022. The official building and exhibition opening will be on the 12 November now.
Officially opening its doors Tuesday 12 October, Ngununggula will welcome residents of the Southern Highlands (Wingecarribee Shire Council LGA), with exhibitions by Tamara Dean and Megan Cope.
Goulburn Regional Gallery Monday 11 October, with Earthbound, curated by Hannah Gee is an exhibition that brings together six artists working in ceramics. From vessels and wood-firing techniques, to sculptural forms and sgraffitio illustration, these practices are as powerful and diverse as the medium itself.
And Sturt Gallery celebrates its 80th anniversary, opening the doors this weekend in Mittagong.
PERFORMING ARTS
The Woman in Black, a play by Susan Hill and Stephen Mallatratt will reopen at Ensemble Theatre, in Sydney, on 30 October. It was abruptly stopped due to the pandemic in June.  The play is the second longest play to run in London's West End. Directed by Mark Kilmurry, with a cast of Garth Holcombe and Jamie Oxenbould, it will run through to 12 December, so a great way to support the re-emergence of live theatre in a small environment. Tickets.
Hamilton returns to the  Sydney Lyric Theatre on Tuesday 19 October, coinciding with the production's anticipated date of return. Final tickets for the Sydney season will also be released on Friday 1 October, for performances from 21 December through 27 February 2022.
With an opening up of Sydney theatres in site, this week's announcement that musical Merrily We Roll Along will recommence at the Hayes Theatre Co on Thursday 21 October – 27 November. It  played its first preview in June before shutter down due to the COVID-19 lockdown in Sydney. Resuming their lead roles will be Elise McCann as Mary…
[ad_2]

Read More:Arts venues opening up in NSW | ArtsHub Australia